This has to be the fastest season of Real Housewives in the history of Housewives.  Seriously, how is it the reunion already?  Oh, well, at least this was an interesting story line.
This season was just another whirlwind of Vicki and the other cast members.  Seriously, everyone made up with Vicki only to hate her again at the end of the season.  A waste of time and energy? Yes.  Did I still enjoy it?
Andy loves his OG OC ladies, but I feel the same as I did with the New Jersey reunion last night–he seems fed up with their bullshit.  OC is eleven seasons of the same b.s. with just a rotation of women who share the same plastic surgeon.  I know he is making millions, but he sure seems to regret his Frankensteins when he has to sit across from them on a couch for ten hours.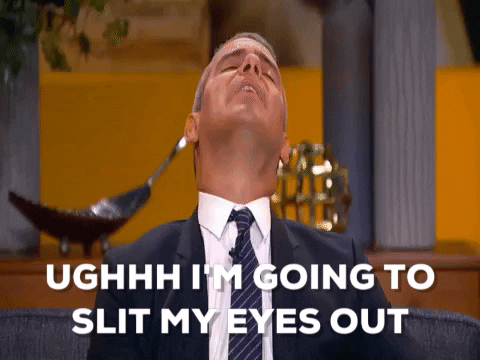 First off, I noticed Kelly's boobs seemed to have tripled in size.  That or that is the most unfortunate dress of all time (still might be).  Girlfriend looks like she has stuffed two watermelons in there and they are ready to fall out the bottom.  And Meghan King Edmonds?  She is eight months pregnant, are we not concerned about sending her into early labor?  I bet Andy is hoping for it to push ratings.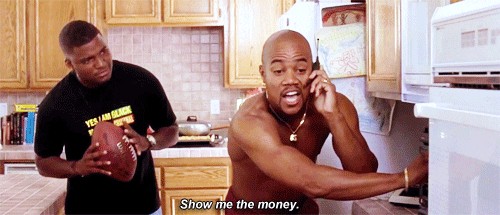 We jump right in on the most popular segment of RHOOC "What Did Vicki Do This Time?" I kind of zoned out, but Andy did decide to bring up Brooks, aka Ding Dong.  Vicki's nickname, not mine. Vicki was not pleased about this turn of events, you would think because she is in a stable relationship with a nice man and wants to forget about Brooks, but you'd be wrong. Ding Dong has since said that he fabricated the cancer (shocking) but Vicki still believes him to be her soul mate and she wants to die so they will be reunited in heaven with all of her other soul mates and die happily ever after.
Poor Vicki said this in Ireland where, as we know, the women drank and obscene amount of Guiness and got super cracked.  I know a "drunk mans words are a sober mans thoughts" but what if you haven't been sober for several days?
And then, in the Vickiest move of all time, after Shannon tells Andy, no, she will never be friends with Vicki again, Vicki tells her to get off her show.  Yes, once again Vicki has let us know that she is the last remaining OG housewife of the OG season.  And Andy just seems like he wants to give it over to her, seriously, what does Vicki have on these people that she knows she will never be fired?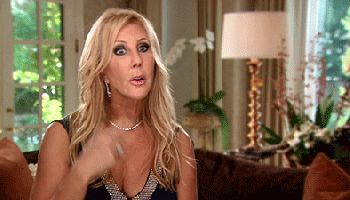 We talk about Tamara for a hot second and girlfriend has a killer bod, but I will very get used to not seeing a bellybutton.  I just find that extremely disturbing, I can't be alone in this.  Andy also feels it's important to bring up Tamara's crooked halo and ask Kelly if she thinks Tamara is a good Christian.  Shockingly, she does not.
Then we move on to Meghan Kind Edmonds.  After Andy shows her a super depressing montage of her pregnancy that even made me tear up, all I want to do is hug Meghan and make sure she doesn't go in to early labor.  Seriously though, the pregnant ones aren't even safe during these fillings. At least he has given her a hall pass to use the bathroom whenever the need arises, doesn't even have to raise her hand.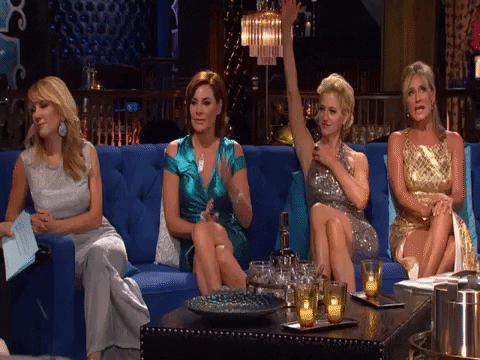 Then it's Kelly's turn and this is what I have been waiting for.  Some answers from this crazy person.  She has been all over the place all season, the victim and the abuser every other word.  I seriously don't know what to think…and neither does she. And Andy tells us neither does America because she happens to be the most polarizing cast members in Housewives history.  Which is insane considering the history.  Kelly's response?  "Thank you."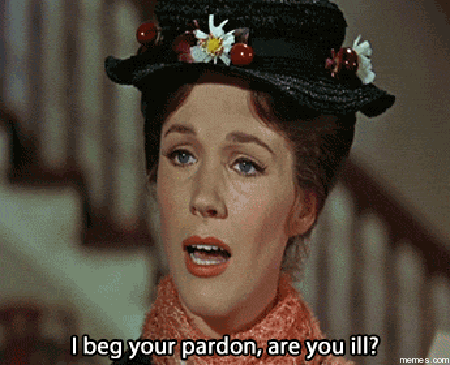 The first of Kelly's blow ups was Shannon aka Mrs. Roper's 70s party.  The big question is easy–was this a set up? The answer is not so simple because why Mrs. Roper denies it and Kelly obviously believes it was, everyone else is super wishy washy.  Mrs. Roper even says that it all look's like a set up, but why would she ever have a party just to stage a set up?  Because it's the Real Housewives you dipshit, you don't get to stay if there isn't drama.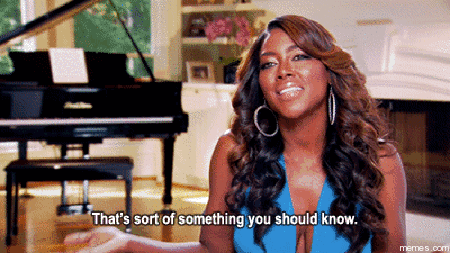 Everyone else thinks that while it looks suspicious, there is no way it is a set up because, as Kelly admits, the story of her being engaged while not divorced from her current narcissistic husband was already out there.  The story about her being engaged to a married man wasn't though…luckily Mrs.Roper was happy to share. Shannon revealed that Kelly was engaged to a married man with children and was having an affair, which Kelly denied. Kelly clarified that he was having an affair, but not her.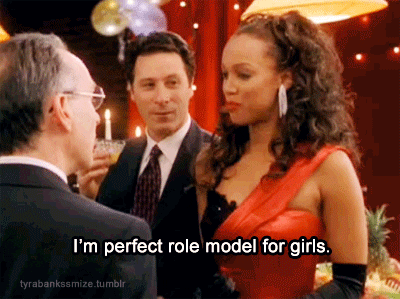 Next week we continue on our journey to find out what motivates Kelly to be the insane human she is and why Vicki doesn't want to have friends.  And the purpose of everyone else this season.  These are all things I need answers to and I know I wont get.